"You brought them back and you'll pay for that!"
A six years old kid was standing pointing an accusing finger at me. He was accusing me or whoever of bringing back the wolves to the Alps, especially in Trentino where they were sadly gone about 150 years ago.
How could I explain to a child that it wasn't true? How could I say to let him understand that its return was spontaneous? How could he understand that it was an amazing thing and that was nobody's "fault"?
I soon associated that attitude to a speech that some days before a local politician made. He spoke with no scientific evidences and therefore he spread out loud a lot of fake news about wolves in Trentino. How could I compete with him? That kid was a mirror to our society; culture and science play no role and who makes a show of force is the one who wins.
Nowadays we are all more and more susceptible to fake news. Now more than ever we have to carry on serious plans for a right scientific communication. Despite being very sad, what that little kid said was illuminating.
I'm a biologist and I work for MUSE, the science museum of Trento, Italy. Since the museum coordinated the communication actions of a LIFE project, Life WolfAlps (http://www.lifewolfalps.eu/) I had the chance work on a great didactic activities created for this project. Our goal was to share a realistic and scientific picture about wolves in the Alps. Many initiatives have been carried on but I will focus on a particular one that, in my personal experience, gave us the best results.
"Vita da lupi" (Wolves life) is an educational game designed to help people learn about wolves and its management in the Alps. Five groups play the role of five different wolves packs. They have to reproduce, move and spread in the natural and urbanized area reported on the game board. There is also a sixth group that plays the human role. This role is essential to manage and safeguard the species: it's decisions could be the key to guarantee a balance between humans and wolves. Will they manage to coexist? Will humans be able to handle this species again after a long time without coexisting?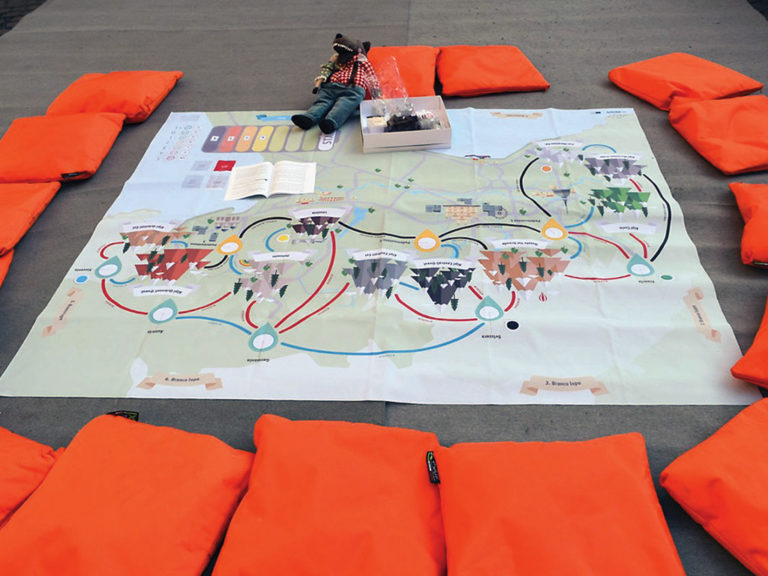 Aim of the game
Winning on others is not the aim of the game. We want people to understand how hard and complex is the wolf's management in the Alps. To "win" a good balance between wolfs dispersal and humans' needs is necessary. Coexistence is the goal.
Since boardgames are evolving fast and they are successfully followed, a game like "Vita da lupi" is a great way to "learning by doing". The game has been designed by professional game designer in collaboration with Life Wolfalps experts. Learning scientific concepts through game rules turned out to be fun and extremely effective. Every important concept has been analyzed: the game is about wolf ecology and biology but also predation prevention, monitoring, poaching and, of course, coexistence. The game highlights why feelings of discontent in humans can vary depending on the wolf's behavior and that they can be reduced by the adoption of different prevention methods. Moreover, the game is about wide-ranging communication, institutions and community coordination.
Involving game board experts allowed us to have the right balance between accurate scientific information and easy game rules.
What made this game a very effective teaching tool:
Graphics is very simple but attractive at the same time.
It has nice light colors and drawings.
The board game is very big (see picture below) so everyone can see what's going on and many people can take part in it (I was able to managed the game with more than 20 people at a time).
It can be played outside.
Possible targets:
Schools (in class but also outside and inside the museum)
Teachers (as a refresher course)
Families (during fairs and public events and in resorts)
College students (in the field science education)
Some logistic advises that may help with this kind of games:
Playing on the floor is more comfortable. Some pillows around the game board will help!
Don't worry if after one-hour little kids will start rolling all over. Usually they still with an eye on the game.
Very young kids (younger than six) find it a little bit difficult and most of them are not able to play alone. A couple of teachers or parents/adults are necessary.
Explain the rules little by little, so players understand better and don't get bored right away.
The game should last not more than 2 hours, maybe less if they are very young. Remember than little kids' attention doesn't last long and they are not able to stand still for a long time.
Showing interesting finds is very important to hold the attention. Skulls, prints, scats, maps, pictures and videos can help a lot.
Other important evidences:
The game master has to be very well prepared and constantly updated on all the last news. Without knowing the topic, it is not possible to play this role.
The game master shouldn't give personal opinions. Being always objective is the key to be believable and less questionable.
Give everyone the chance to express opinions, doubts, fears but also rage. Listen carefully to them, don't impose your own opinion, always try to lead a positive dialog.
Game limits:
Not everyone can play the Master role
Who doesn't like wolfs often try to play to have them all killed.
Sometimes also little kids try to kill all the other wolfs. The primal instinct of beating the other teams (packs) is hard to fight. Cooperation in gaming is not always well understand.
"You still didn't convince me, but I have to admit that now I start seeing this animal in a different way". This was his way to say goodbye to me (and maybe also thank you). He was a boy from Fassa Valley, an area where people are facing the wolfs return. They see their sheep killed, they see the wolf close to the back yard and they are not ready for that. This boy entered the class angry, filled with rage and trapped in his own ideas. Little by little he started to calm down, to listen and I saw in his eyes that something changed. It's a start. Young generations need to know that communication is not worthless. They need to know how to coexist if they care about their country. They need to appreciate the nature they are surrounded by and be an example for all the others.
Always remember: coexist is the goal!